10 Steps to Side-Stepping Used Car Scams
By Emily McDowell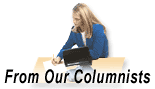 So you need to buy a used car, but you don't know a carburetor from a carbohydrate, and you're facing the process alone. Here are a few tips to get you going:
Be Decisive
If you tell a dealer that you're not sure what you're looking for, he may try to sell you whatever he needs to get rid of.
Get Informed
You can never ask the seller too many questions about the car's history. Comprehensive checklists of these questions can be found at CarBuyingTips.com. Print them out and take them with you to the dealership.
VIN Is In
The VIN (Vehicle Identification Number) is essentially a car's "social security" number. Carfax is a great consumer protection site that uses a car's VIN to instantly run a vehicle history report. This will tell you if the car has ever had major problems, i.e., been in a serious accident, flooded, salvaged or rebuilt. If anything questionable shows up on the report, don't buy the car.
Beyond The Blue Book
The Kelley Blue Book, available online or at your local bookstore or library, is published yearly and lists the current resale value of thousands of used cars. Keep in mind that a car's options and mileage can increase or decrease its Kelley Blue Book value. Get a more accurate picture of what the car is worth by using a value calculator like the one provided by CarPrices.com.
The Pen Is Mightier Than The Promise
Get everything the seller says in writing, including any promises he makes about the car's condition or history. While you're inspecting the car, take notes on everything you see, and jot down the answer s to the questions on your checklist. Later, you can use these notes to support your offer.
You Set The Price
Okay, so the seller's asking $5,000. So what? The number you've come up with based on your research is a much more realistic indicator of what the car is worth. If the seller gives you a hard time, show him a printout of the value calculator, your notes, and the answers to the questions on your checklist.
No Title, No Sale
Anyone who sells you a car must give you the title. If the seller doesn't have the title, assume the car is stolen and don't buy it.
Get The Mechanic's Seal Of Approval
Absolutely, positively have the car checked out by a reliable mechanic before you buy it. If you don't have a mechanic, get a recommendation from a friend, family member or coworker, or go to the "Car Talk" section of Cars.com. This site lists readers' recommendations for mechanics in all 50 states.
Use Technology To Your Advantage
The Internet is full of incredibly informative, free resources for used car buyers. CarBuyingTips.com covers all aspects of buying, leasing, getting loans, financing and insuring your car. You might also want to look at Edmunds.com, which offers ratings, road test results, and crash test data as well as pricing.
And Finally… Trust Yourself
If something feels wrong, it probably is. You should never feel obligated to buy anything, and you should never feel pressured. If a dealer tells you that his offer is only good that day, or that he's offering you a "one-time deal," he's lying. Any reputable seller will give you time to do your research and think it over. There are plenty of cars out there.